Biography
Since leaving Glasgow School of Art in 1988, where she studied Embroidered and Woven Textiles, Susan has portrayed the rich layers of colours and textured surfaces found in the ever changing Scottish landscape through weave and mixed media.
Her past focus on the patterns and textures of the Moorfoots in the Borders whilst living in Edinburgh has progressed onto more expressionistic land and seascape studies inspired by her  surroundings on the Isle of Skye. She now teaches on the Isle of Skye and works in her studio making frequent visits to her favourite beaches and mountains for painting in the outdoors and developing work in her studio.
'I become fascinated by one part of the land or sea, continuously sketching and painting the one area in different seasons and weathers,  abstracting the patterns, colours and textures.'
She has recently joined the newly formed 'Bridge Art Collective' which is a group of 10 practising local artists' from Skye, Locahalsh and Wester-Ross. Check out their facebook page – The Bridge Art Collective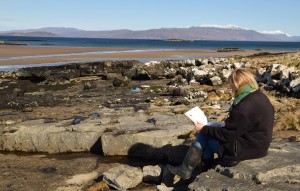 CV
Glasgow School of Art 1984 -88
BA (Hons) Design – Embroidered and Woven Textiles
Graduate Award – Incorporation of Weavers of Glasgow.
1989
Member of Aberdeen Artists' Society. Yearly exhibitions.
Weaver in Residence, Aberdeen Art Gallery.
Exhibition and Art Workshops.
Mixed exhibitions at Gallery Heinzel, Aberdeen.
Tutor for Open College of the Arts, Textile course.
Tutor for City and Guilds Embroidery, Aberdeen College of Commerce.
1990
Commission for woven textile hanging, Shell UK, London.
'Three Women Artists' exhibition, Gordonstoun School Gallery.
1995
Travel to Nova Scotia, travel grant.
1996
'Common Ground' 3 women exhibition. E.S.U, Edinburgh.
W.A.S.P.S mixed festival exhibition.
E.S.U mixed Festival Exhibition.
'Scottish Artists' at Will's Art Warehouse, London.
1997
W.A.S.P.S mixed exhibition.
Compass Gallery Xmas show, Glasgow.
Art Exposure Xmas Show, Glasgow.
1998
Art Exposure, mixed exhibition.
'New Landscapes' 2 women exhib., Patriothall, Edinburgh.
Compass Gallery Xmas Show.
Art Exposure Xmas Show.
V.A.S Academy Show, the Mound, Edinburgh.
2000
Moved to the Isle of Skye
Part time teaching Art and Design
Plockton High School and Portree High School
V.A.S Academy Show, the Mound, Edinburgh.
2004
Touring mixed exhib., staff and pupils, Portree
High School. Portree, Inverness, Montecatini, Italy.
Summer show, 2 Rooms Gallery, Plockton.
2006
Summer mixed exhibition 2 rooms Gallery, Plockton
2007
'Basking in the warmth of the reel' – Orbost Gallery, Skye
(Touring Exhibition) Piping Festival, Glasgow
2008
2013
Rock Trust postcard Exhibition
2014
Moved back to the Isle of Skye.
2017
"Urlar" joint exhibition of recent work at the Edinburgh Ski Club, Howe st, Edinburgh
Lecturer in Art and Design at West Highland college and working in the Skye studio.
2019
"First Impressions" June 2019, joint exhibition with The Bridge Art Collective – recent work at the Steadings Gallery, Balmacara,Lochalsh
"Gatherings" September 2019, joint exhibition with The Bridge Art Collective – recent work at the Steadings Gallery, Balmacara,Lochalsh